2680CWW40 adds to an already successful Nexus series platform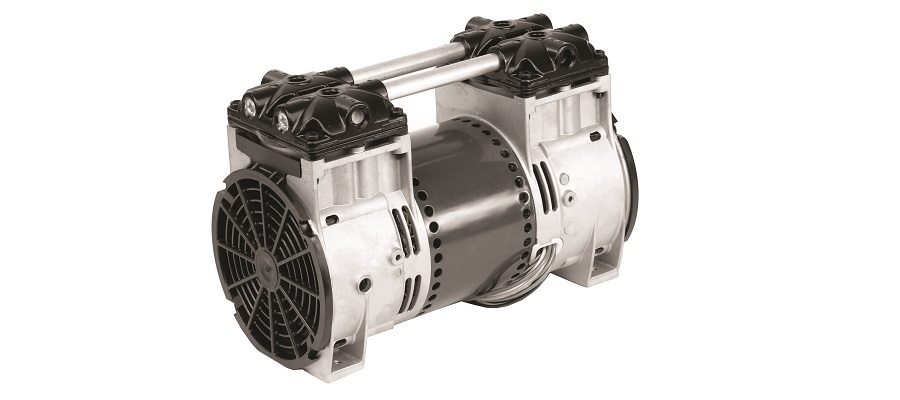 Gardner Denver THOMAS is pleased to announce the release of 2680CWW40. This newly released for production 2.75" [69.85 mm] bore, .40" [10.16 mm] stroke unit has both the reliability and features/benefits the industry has come to expect from THOMAS, but utilizes a next generation 4.8" [121.9 mm] frame P.S.C. motor that can be operated anywhere in the world at 100-127V and 200-240V 50/60Hz.
This twin WOB-L® piston oil-less compressor/vacuum pump is ideal for general market applications, but should be considered for specific medical, laboratory, and industrial applications as well. It utilizes high performance tapered piston seals for maximum performance and life and is capable of continuous pressure operation up to 100 psi (6.9 bar) or continuous vacuum operation up to 92% of local barometer. The pump provides open flow up to 4.5 cfm [127.4 l/min], measures (L x W x H) 10.57" (268.5 mm) x 5.38" (136.7 mm) x 7.19" (182.6 mm), and weighs 20.9 lbs. [9.5 kg]
.
Units are RoHS and REACH compliant and come standard with Epoxy coated wetted parts and stainless steel valve components for maximum corrosion resistance, thermally protected motors, lightweight, impact resistant fan guards, internal 9 blade cooling air flow fans, and high quality aluminum die-cast components. Units are easily serviced with world-wide service network and service parts.
Click to learn more: 2680CWW40 Compressor/Vacuum Pump