On the afternoon of June 21, 2018, eleven Thomas staff members – on behalf of Gardner Denver Medical Wuxi – held a wonton DIY session for kids in the Wuxi Child Welfare Center.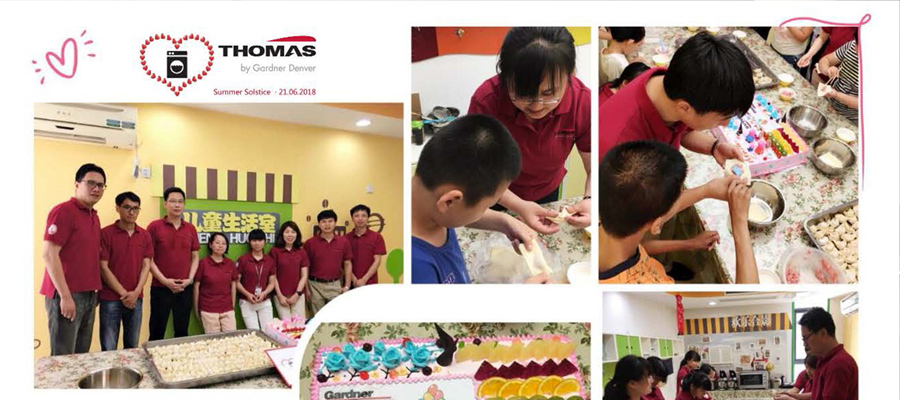 Having just concluded Red May celebration for the record high monthly throughput of over $4.66M, the Thomas Wuxi team decided to express its gratitude to the community, whose vibrant economy has fueled our sustainable growth in the past 13 years. The city of Wuxi does not only serve as a home to 133 Thomas Wuxi staff members, but also has been an enjoyable workplace for the Gardner Denver Thomas Wuxi facility since its official opening in 2005.
Serving wonton to children is a typical custom on Summer Solstice Day in Wuxi and the neighboring Yangtze River Delta. Any child eating wonton, a special dumpling filled with minced pork, will be blessed with healthy growth. That's why the GD Thomas team decided to take this special occasion to attend to over 250 homeless kids in the Child Welfare Center, who should receive the same blessing as the regular kids on Summer Solstice Day.
The scene of the wonton DIY session was both joyful and touching, with laughter permeating the room. We were glad to see many kids feel a sense of achievement when they finally tasted their own DIY wontons, which makes Summer Solstice not just a normal solar term on the lunar calendar from now on, but an eternal memory for both kids and our staff. All participating Thomas staff members will be awarded with a Thomas red heart badge in the next town hall meeting, to recognize their goodwill.
Three washing machines were also donated to the child welfare center – jointly by staff and company before the wonton DIY session, so that every child would wear clean and tidy clothes in the coming sweltering summer.
Special thanks to Jessica Gong (HR) & Steven Tian (Marketing) for contribution to the story; Evelyn Xun (HR) for all the preparation and onsite arrangements, Merlin Gao (Sourcing), Carly Zou, Aili Xu & Linda Liu (Quality) and Jianghui Han & Alan Wang´s (Engineering) logistics support; Kathy Shen (Finance) & Paul Zou (Operation) for the hands-on tutoring during the wonton DIY session.